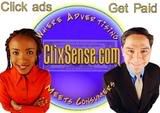 Clix Sense won't make you a million dollars, but you do get paid for viewing ads. The mininum amount paid is $10.00, and they send checks out once a month. They have an option to upgrade to view more ads, that will generate more income for you as well. The amount to upgrade is $10 per year, and you will have more ads to view.

This company does have ads to view outside the USA as well. The number of ads are growing in that area.

Click on the logo above, and you can sign up for free. Most of the people I have heard from state that they can take their families out to a NICE dinner at the end of the month from the income! Think about the interests they are asking you about when you sign up as well. It seems to me that the more interests you have the more opportunity you may have to view different types of ads. I have seen some that personally I couldn't use, but forwarded to others I knew.