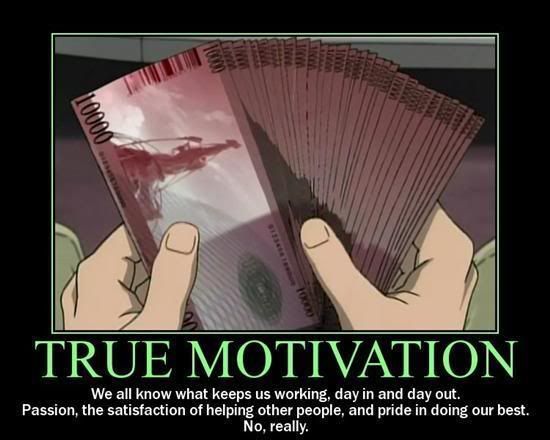 There are right and wrong reasons for wanting to start a business or attempt self employement! You need to make sure you are wanting to DO THIS for the right reasons FIRST! Remember being angry at your boss, wanting to get rich quick, or pursueing an idea that you have only read about briefly aren't the best way to start! How about you check for yourself to see HOW motivated you really are! If you don't know the answers to these questions check to see how motivated you are in answering them!

1) How long have you been thinking of starting your business, or being self employed?

2) Do you know anyone that is self employed? Have you discussed your ideas with them? What have they told you about being self employed?

3) Do you have a definate business idea at this time?

4) Have you done research (on the web, library, business centers, etc) regarding your idea for your business in the following areas:

How much does it cost to start?

How many others competitors are just like my business out there?

Who would be my target audience, or typical customer?

How much income do owners of this type of business typically make?

5) How long do you think it will take to open for business?

6) How much income do you have to take out of the business in the first year?

How much are you willing to invest?

7) Do you have experience in this type of work?

8) What are you willing to give up temporarily in order to get the business started? Keep in mind YOU will have to give certain things up because the amount of time, resources, and money!

9) Write down something difficult that you get stuck with until it was completed.

10) Will your family work in your business? If yes, who? What much are they going to do, and what are they going to do?

Keep in mind that starting any business can be disruptive to family life. When you work from home you need to be concerned with the physical challenge of satisfying your family AND your customers at the same time!

Take your business SERIOUS! You need to work a regular schedule, and you need to ask your family to respect this! Please that doesn't mean you cut off play time with your family, but don't let your friends talk you into running errands with them during the day if you have scheduled time to work either! REMEMBER there is money on the line here!

Try to find a place within your home to do your work. Don't spread this business all over the house! Set yourself up an office space, and make sure its separate from your family activities room!

Set and stick to your business hours! You do have some flexibility for family of course, but at the same time once your business if off the ground your customers can't be guessing when you will be there for them.

When I started a business I had children at home. There were days that they needed to play at another house, or a got a teenager to come and watch them while I worked. Make sure you realize this will be a business expense, and its to be budgeted! Its just as important as your telephone or internet! That's doesn't always have to be fulltime, but you will need some time to concentrate!



I know this sounds funny, but you will understand later! If you are planning to use just one phone line both for personal and business teach your children HOW to answer the phone, and when to STAY away from it! To be honest you will want a second line at some point. Make sure it has a hold button on it in case you need to take care of AHEM 'domestic disturbances' without sounding unprofessional! Keep your answering machine on at all times. If its a homeline - turn the ringer off at night if you need to!

Remember seek support from a home business support organizations. My local college has a business community center. It can be very helpful!

SO are you motivated yet? Remember you need to know the answers to those questions while you plan your own home business. It will take a while, but it will help you in the end! I started this series with the article about, "I don't have the cash!" if that is first hurdle! I have alot more to say about the business knowledged that I have learned over the last 14 years! Check back or subscribe to the site on top! Read more...